Why It's Important To Tour A Community Virtually
Finding the right senior living community for your loved one is crucial. You want to find one that offers the right combination of safety, caring, comfort and affordability.
Touring multiple senior living communities is one of the best ways to make a more informed decision about which one would be best suited for your loved one.
However, with the coronavirus pandemic still raging, personal visits are discouraged because of the risks they pose to the elderly residents. Fortunately, you can still tour various facilities virtually.
While this may not allow you to get a full look and feel of the place, it still allows you to get sufficient information to make a sound decision.
Even after the pandemic has passed and personal visits are safe, a virtual tour may be a convenient way to assess the facility if you live far away.
These few tips will help you make the most of your virtual tour.
What To Do During A Virtual Tour
1. Observe the layout of the community
There are a lot of little things that go into making a senior living community a good match for your loved one.
These are some of the things to observe during your virtual tour:
• Overall size and layout of the premises
• Cleanliness of the various facilities
• Safety aspects – this includes railings for support, types of furniture and furnishings, external security
• Medical facilities
• The layout of the rooms with especial attention on the bathroom
• General appearance such as décor and colors – does it look cheerful or drab?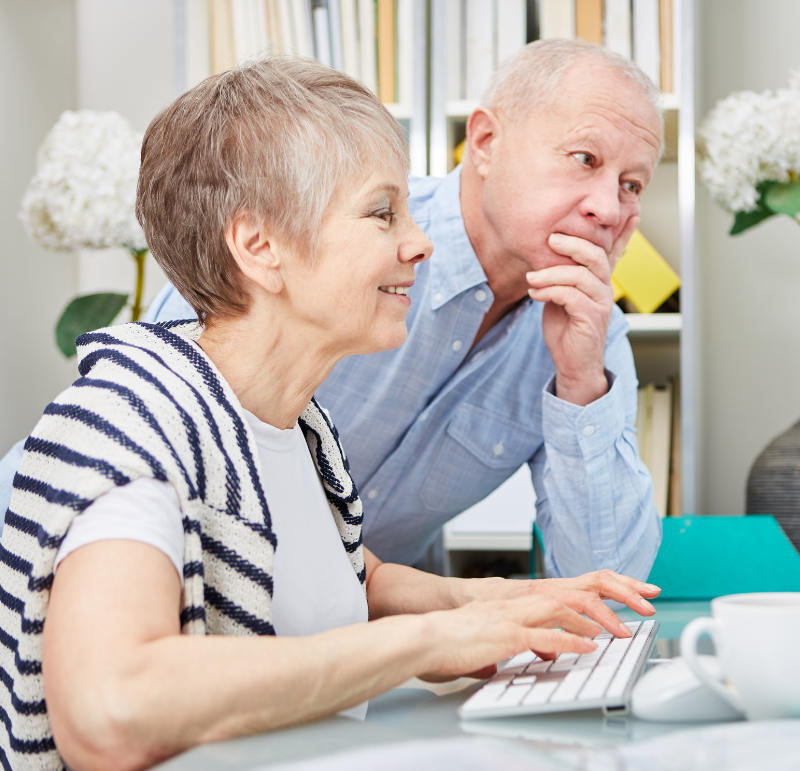 Asking questions during the virtual tour is so very important. There are a lot of things that you will not be able to see or get a feel of during a virtual tour but that does not mean you cannot get more details by asking the right questions.
It helps to make a list of questions to ask before your scheduled virtual tour.
– What level of care does this community offer? – Every person ages differently and may have different care needs. Knowing exactly what level of care to expect is important.
– Is the staff available 24/7? – In most facilities the staff are available 24/7 but it's a mistake to presume anything. When asking about the staff's availability, it's a good idea to also ask about what services are offered 24/7.
– What are the medical services available? – Some facilities have a medical professional on the premises but not all do. Some may have a doctor on call or some other arrangement. You must get details about the medical services especially if your loved one has an underlying medical condition.
– What is the staff-to-resident ratio? – This will give you an idea of how much attention and help your loved one can expect.
– How are the residents staying active and engaged? – Different facilities may have different recreation facilities. Knowing what each community offers can help you make a decision that best meets your loved one's interests.
– What are the protocols when moving in? – Knowing the details in advance will give you sufficient time to complete all the necessary formalities.
– What are the safety and security measures in place? – Safety is a priority. You want to know what the management has put in place to keep residents safe.
Whether you visit a senior living community personally or virtually, ultimately it comes down to your gut instinct.
Do you have a good feeling about the place?
More importantly, do you think your loved one will feel happy at that place and will you have the peace of mind that you made the right choice? This is the one factor that will guide your final decision.
When you are looking for care facilities for a loved one, you will come across many options. Schedule a walkthrough of our great facility.